Program Details
Code: ZACT0516F
Under 18's Volunteer and Adventure Experience in South Africa
Discover Cape Town, South Africa during this hands-on, two week project for under 18 volunteers.
Program Information
Volunteer alongside an international team teaching children from local townships important sports skills and co-ordinating drama lessons, facilitating the development of their physical and cultural skill set.
United Nations Sustainable Development Goals
Overview
The aim of this program is for you to assist teachers and GVI staff to run sports lessons at township schools during the week. You will be assisting in running general physical education classes and may also be teaching specific sports like football, netball, cricket, tennis, athletics and rugby, depending on the season.
You will also assist educators and GVI staff with co-ordinating drama classes, interpreting cultural pieces with the students and assisting in developing their ability to work with creative projects.
You will volunteer and live in an attractive coastal village close to Cape Town and Stellenbosch, with direct exposure to local culture and these communities for the duration of your stay.
Testimonial
This program has been amazing. I could not have asked for a better experience, from the kids at the school to the other volunteers and GVI staff, this experience is something I will never forget. I have made lasting friendships, not only with other volunteers but also with the kids at school. It is one thing to give the kids hope, but it is another to give them a future, and that is what GVI is giving them.
Program Details
GVI Live
22 Sep
The world will know Peace...
The world will know Peace One Day. There are thousands of humans out there, working to educate, to contribute, to solve. [...]
18 Sep
https://t.co/Hyi97KjBqD
Posts from the Field
South Africa is the ultimate gap year destination, there are so many beautiful places to see but there are also many opportunities [...]
GVI Blog
Let's be honest, most of us have a bucket list with endless things we'd like to do, places we'd like to visit, or people [...]
Project Life
Monday to Friday
Every weekday you will be assisting in teaching sports classes at township schools. You will gain general exposure to the teaching field and will assist where necessary both inside the classroom and on the sports field for the duration of the program.

You may be required to assist teachers of various classes in the daily execution of their classes, for example, assisting a drama teacher on a piece of literature from the English curriculum (like a poem or short story) and working with the class to interpret these pieces in a creative way, for example, through a short performance or a play.

Field Conditions
You will be sharing accommodation facilities with your fellow volunteers in an apartment or house with access to electricity and hot running water.

Free Time
During your downtime, you can relax and enjoy many of the amazing sights and experiences Cape Town has to offer.
Project Details
This program runs with the collaboration and support of community leaders and teachers from the local communities.

Volunteers will prepare and run general physical education classes; assisting in coaching specific sports such as football, netball, cricket, tennis, athletics and rugby; while educating the children about their coastal environment and its importance through a variety of interactive workshops.

Volunteers will also play an important role in assisting teachers within the classroom, helping to make lessons more interactive and participating with the scholars directly, ensuring their learning experience is maximised in the process.

Without this program or volunteer assistance, the children would not have the opportunity to take part in such a variety of activities and events, due to general community issues like lack of equipment, skills and supervision within the township.

How this project makes a difference:
This project gives township children the opportunity to play sports, gain a creative awareness, as well as creating an awareness of the environment around them. The children not only learn how to respect and protect their local environment, but the project also keeps the children physically and intellectually active, healthy and safe from the drugs, alcohol, and crime, which is exceedingly prevalent in the local areas.

Cape Town's short, mid, and long-term objectives:
All of our programs have short, mid and long-term objectives that fit with the United Nations Sustainable Development Goals. This enables us to report on our collaborative impact across the world in a streamlined manner, measuring which UN SDGs we are making a substantial contribution to. Furthermore, this will help our local partners and communities measure and visualize their contribution to the UN SDGs.

Upon arrival at base, you will be educated about the history of the UN SDGs. You will learn about the specific goals of your location, the long-, mid- and short-term objectives, and also clarification of how your personal, shorter-term involvement contributes to these goals on a global level.

GVI's aim is to educate you on local and global issues, so that you continue to act as active global citizens after your program, helping to fulfil our mission of building a global network of people united by their passion to make a difference.

Learn about the long-term objectives you will be contributing to in Cape Town:
1. Improve the quality of education in Nomzamo and Zola
2. Promote gender equality in the local community
3. Increase the health and wellbeing of less privileged people in the community
4. Increase in-country capacity by providing training to less advantaged people in South Africa
What's Included
24-hour emergency phone

24-hour in-country support

Access to Alumni Services and Discounts

Adventure and cultural activities

Airport pick-up (unless otherwise stated)

All necessary project equipment and materials

All necessary project training by experienced staff

Dedicated GVI leaders

Extensive pre-departure service including packing lists, fundraising advice, advice on travel arrangements, a thorough pre-departure orientationAdventure and cultural activities

Location orientation

Long term experienced staff

Meals while on project (except on work placements for long term internships)

Safe and basic accommodations (usually shared)

Welcome meeting
What's Not Included
Additional drinks and gratuities

Extra local excursions

Flights

International and domestic airport taxes

Medical and travel insurance

Personal kit

Police or background check (where necessary)

Visa costs
Adventure
Although this trip follows a structured itinerary, don't think you won't be seeing and doing some amazing things! Our long term field staff will be arranging some exciting excursions for you. Previously, this has included a peninsula tour and a township tour.
The Team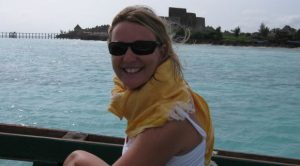 Shayle Havemann
Director of Programs
Meet Shayle, our innovative and driven director for all our projects around the world. She has two honours degrees, one in Industrial and Organisational Psycology, and another in Developmental and Education Psycology. Shayle also has over 10 years experience in setting up, managing and evaluating environmental and community programs across Africa, Asia, Europe and Latin America.

She is well-practiced in facilitating meaningful and effective intercultural engagement and this makes her the perfect person for overseeing our operations in the multicultural country of South Africa.

When not attending meetings or planning her next endeavour, Shayle can be found spending time with her family or taking part in some or other exciting outdoors activity!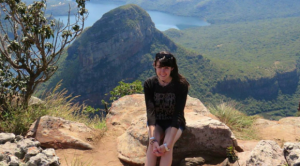 Katelin Ryan
Service Learning Manager Cape Town
A sustainable development extraordinaire with a great commitment to create sustainable solutions for local communities. Katie has worked in South Africa for many years before her role with GVI and after completing her Master's degree in International Education she joined our team of professionals.
Her credentials include over eight years of volunteering, teaching, managing, and leading international education programs around the world. This includes working in zero-waste policy communities in New Zealand, and in an orphan bear refugee center in Croatia.
As our Service Learning Manager she is excited to use her experience designing experiential education programmes and managing community programmes.