Program Details
Code: ZACT0703U
The Intersection of Inequality, Education, and Gender in South Africa's Townships
Study the complex issues that lead to gender inequity in South Africa's townships.
Program Information
Translate theory into action by making a direct contribution to ongoing, sustainable efforts to promote gender equality while participating in a credit bearing academic program in Cape Town, South Africa. Assist in breaking the cycle of intergenerational poverty by increasing the opportunity for women in townships and rural communities to access quality education, health care and income initiatives.
United Nations Sustainable Development Goals
Overview
All GVI study abroad programs have a 6 week duration, but students will only be in country conducting field work on community or conservation projects for 2 weeks.
Your Study Abroad program begins 2 weeks prior to departure, when you'll participate in an online course, getting to know your instructor, GVI international field staff and your classmates, all of whom may come from many different institutions across the U.S. and around the world. A majority of your time abroad will be spent outside the classroom, as you work alongside our staff and community partners to address various challenges in the region that you have discussed during the pre-departure sessions.
Around the world, the majority of people living below the poverty line are women. Many girls are still denied basic education and women continue to dominate the world's illiterate population. By supporting women in culturally appropriate ways and listening to their own opinions about the types of opportunities that would benefit them most, GVI will ensure that your time in South Africa has meaningful impact on the future of women and girls with whom we work.
In addition to learning about the issues, you will contribute to impactful sustainable empowerment initiatives, explore Cape Town, immerse yourself in a fascinating culture and prepare yourself to work on similar challenges in your own community back home.
Program Details
GVI Live
18 Sep
https://t.co/Hyi97KjBqD
17 Sep
Always an great experience...
Always an great experience to be in the presence of such amazing animals https://t.co/gbK0mjm5Td
Posts from the Field
South Africa is the ultimate gap year destination, there are so many beautiful places to see but there are also many opportunities [...]
GVI Blog
Classroom learning only teaches you so much. Internships allow for a completely immersive educational experience.
Costa Rica is a dynamic country in Central America, known for its magnificent wildlife, stunning coastlines and volcanoes. [...]
Project Life
You'll leave for your chosen destination prepared for a unique and impactful experience abroad. GVI will meet you at the airport, transport you to our center, provide a comprehensive orientation and help you settle into your housing (single-sex dorm rooms). You'll have the chance to explore your surroundings, learning about GVI's work in Cape Town and preparing for an action-packed two weeks that include hands-on work on a variety of projects, lectures and group discussions, cultural excursions and facilitated reflection sessions.

Throughout your time in Cape Town, there will also be time to learn more about South African culture and other successful sustainable development projects that have had a positive impact on the local environment and inhabitants.

Upon returning home, you'll continue your online course for another 2 weeks, discussing your insights and experience abroad while also exploring ways to continue your involvement in addressing the UN SDG's in your local community at home.
Project Details
All of GVI's programs have short, mid and long-term objectives that fit with the United Nations Sustainable Development Goals. This enables us to report on our collaborative impact across the world in a comprehensive manner, measuring upon which UN SDGs we are making a substantial contribution. The experiential component of your course is designed to advance GVI's existing project work and will help our local partners achieve the goals they have set for their communities and enable GVI to continue making a positive and measuring our contribution to the UN SDGs.

Women living in townships and rural areas are sometimes uninformed about opportunities available to them and are often socialized into taking marginalized roles by traditional attitudes toward gender roles. By ignoring issues of gender inequality, women will continue to be less likely to be employed and increasingly vulnerable to social ailments such as poverty, violence and poor health. In order to counteract the root causes of inequality, GVI has is working on numerous initiatives with local communities to help promote opportunities for women and girls, and to educate men and boys about gender inequality in South Africa and across the world.

Our goal is to educate you about local and global issues, so that you continue to act as an active global citizen after your course is completed, helping to fulfill our mission of building a global network of people united by their passion to make a difference.
What's Included
24-hour emergency phone

24-hour in-country support

Access to Alumni Services and Discounts

Airport pick-up (unless otherwise stated)

All necessary project equipment and materials

All necessary project training by experienced staff

Instruction and grade report

Location orientation

Long term experienced staff

Meals while on project (except on work placements for long term internships)

Safe and basic accommodations (usually shared)

Welcome meeting
What's Not Included
Additional drinks and gratuities

Extra local excursions

Flights

International and domestic airport taxes

Medical and travel insurance

Personal kit

Police or background check (where necessary)

School of Record transcript

Visa costs
Exploration
Participating in a course with GVI not only allows you to participate in programs assisting disadvantaged communities or endangered ecosystems, but it also offers an insider's glimpse into life the local area. Your time in Cape Town includes a guided tour of the world famous Robben Island where Nelson Mandela was imprisoned, a visit to the District Six museum, a cable car ride up Table Mountain, a visit to the V&A Waterfront, Langa Township and Cape Point Peninsula.

Our long-term field staff are a great source of advice, should you want to extend your time in South Africa. If you want to extend your time working on a GVI project in Cape Town, join our team conducting research on cheetahs, lions and other animals in Limpopo, South Africa, or travel to other areas of the country, we are here to help you make the most of your time abroad. Remember to ask about discounts on local activities and side trips through your association with GVI.
The Team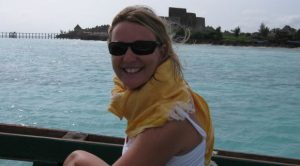 Shayle Havemann
Director of Programs
Meet Shayle, our innovative and driven director for all our projects around the world. She has two honours degrees, one in Industrial and Organisational Psycology, and another in Developmental and Education Psycology. Shayle also has over 10 years experience in setting up, managing and evaluating environmental and community programs across Africa, Asia, Europe and Latin America.

She is well-practiced in facilitating meaningful and effective intercultural engagement and this makes her the perfect person for overseeing our operations in the multicultural country of South Africa.

When not attending meetings or planning her next endeavour, Shayle can be found spending time with her family or taking part in some or other exciting outdoors activity!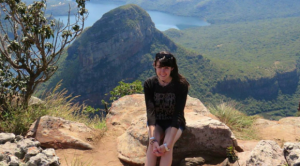 Katelin Ryan
Service Learning Manager Cape Town
A sustainable development extraordinaire with a great commitment to create sustainable solutions for local communities. Katie has worked in South Africa for many years before her role with GVI and after completing her Master's degree in International Education she joined our team of professionals.
Her credentials include over eight years of volunteering, teaching, managing, and leading international education programs around the world. This includes working in zero-waste policy communities in New Zealand, and in an orphan bear refugee center in Croatia.
As our Service Learning Manager she is excited to use her experience designing experiential education programmes and managing community programmes.