Program Details
Code: PECL0486P
Women's Empowerment Volunteering In Peru
Contribute to sustainable development initiatives in Cusco, Peru. Help to empower local women and girls, working to increase their quality and access to education.
Program Information
Help increase the quality of women and young girls' education when you travel to Cusco, Peru, a city known for its rich cultural history stretching back more than ten centuries. Contribute to the UN Sustainable Development Goal #5, Gender Equality, while receiving skill-based training and mentorship, improving your career skills.
United Nations Sustainable Development Goals
Overview
There is significant need for the promotion of women's rights in Peru. On our women's empowerment program in Peru, volunteers are introduced to the background of gender roles in this country, and will be trained to facilitate hands-on activities on a variety of topics related to improving the lives of women and girls in this community. This could include workshops or one-to-one sessions about women's rights, healthcare, literacy and professional development.
As a volunteer working on female empowerment in Peru, you will be working with Peruvian women's empowerment groups in Cusco to create social change through awareness and education.
Highlights:
- Be part of a community of volunteers who share your passion to make a sustainable difference
- Receive 360 degree support from GVI's experienced field staff
- Enjoy skill-based training and mentorship
- Improve your future career by gaining hard and soft skills
- Contribute to the quality and access of education of local women in Cusco, whilst directly impacting the United Nations Sustainable Development Goals.
Testimonial
I worked with GVI as a volunteer every summer from 2006 to 2012 and had the opportunity to take part in most inspiring projects where GVI is promoting community development and sustainable livelihoods. Although GVI has been involved in different projects in different continents, all of them were designed to be holistic and focus on people's needs and resources. This integrated conception of development caught my attention from the beginning, and has taught me that education sits at the center of all efforts to enhance the resilience of fragile communities all over the world.
Program Details
GVI Live
22 Sep
The world will know Peace...
The world will know Peace One Day. There are thousands of humans out there, working to educate, to contribute, to solve. [...]
25 Sep
The magic is in the details!...
The magic is in the details! https://t.co/fB8J6hPeRs https://t.co/ghDW910H6b
Posts from the Field
Peruvian food is a fusion of different cultural traditions that every traveler to South America must experience for themselves! [...]
GVI Blog
Most of us have been in a situation where language (or rather the lack thereof) restricted us from doing certain things. [...]
Project Life
You will work with a variety of female students teaching both practical and conversational English, health and life skills classes across different ages and levels, depending on the needs of the local community at the time. This challenging but rewarding role will provide not only an insight into the local culture, but also an increased understanding of the females' roles in this country.

From Monday to Friday you will work on the projects, planning and delivering educational classroom lessons. Weekends are yours to explore the surrounding area or relax at the base while getting to know the other participants.

You will be staying in shared dormitory style accommodation with running water, electricity and flushing toilets. You will enjoy daily communal meals with the rest of the team.
Project Details
Volunteers should be prepared to be flexible and adapt to changes in the field. Typical project activities will include one-on-one educational lessons or large group classes that touch on literacy skills, healthcare, woman's rights or professional development.

How this program makes a difference:

Participants' efforts will help increase families and communities' quality of life, and help females to meaningfully contribute towards increasing the productivity, economic, and social development of Peru.

Peru's short, mid, and long-term objectives:

All of our programs have short, mid and long-term objectives that fit with the United Nations Sustainable Development Goals. This enables us to report on our collaborative impact across the world in a streamlined manner, measuring which UN SDGs we are making a substantial contribution to. Furthermore, this will help our local partners and communities measure and visualize their contribution to the UN SDGs.

Upon arrival to base, you will be educated about the history of the UN SDGs. You will learn about the specific goals of your location, the long-, mid- and short-term objectives, and also clarification of how your personal, shorter-term involvement contributes to these goals on a global level.

Our aim is to educate you on local and global issues, so that you continue to act as active global citizens after your program, helping to fulfil our mission of building a global network of people united by their passion to make a difference.
What's Included
24-hour emergency phone

24-hour in-country support

Access to Alumni Services and Discounts

Airport pick-up (unless otherwise stated)

All necessary project equipment and materials

All necessary project training by experienced staff

Location orientation

Long term experienced staff

Meals while on project (except on work placements for long term internships)

Safe and basic accommodations (usually shared)

Welcome meeting
What's Not Included
Additional drinks and gratuities

Extra local excursions

Flights

International and domestic airport taxes

Medical and travel insurance

Personal kit

Police or background check (where necessary)

Visa costs
Exploration
Many GVI participants decide to travel before or after their program, solidifying the lifetime friendships established on program.

We checked in with our long term field staff for advice and travel tips for discovering Peru.

Optional Side Trips
The following short trips are very popular and should definitely be checked out during weekends or on your off time.

- Cusco boasts a wide array of cultural attractions, such as Museo Inka, home to some of the best-presented displays of ceramic artifacts, jewelry, and hand-woven textiles.
- Spoil your taste buds and indulge in Cusco's tantalising cuisine, usually made with fresh organic fruits, vegetables and herbs. Some of the local favourites include papa rellena, a twice-baked potato; baked chicken empanadas with a squeeze of lemon; and cocadas, giant coconut macaroons.
- Head over to La Catedral, an ancient cathedral that displays amazing architecture and is and unique brickwork.
- Why not go see the wondrous colours of the Rainbow Mountains, and do a trek to 4800 meters!
- Take a class in traditional Andean medicine or a pottery workshop, to create something special to take home with you.

Further Travelling Opportunities
There are a number of opportunities for exploring more of Peru. These could include taking a tour of the renowned Inca city of Machu Picchu, one of the best-known archaeological sites in the world. The outdoors enthusiasts can enjoy a hike up Cordillera Blanca, the world's highest tropical mountain range. Lake Titicaca's floating reed islands are also an attraction not to be missed. If your time and budget allows it, make a point of travelling Peru, you will not be disappointed!
The Team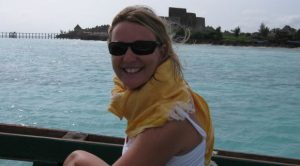 Shayle Havemann
Director of Programs
Meet Shayle, our innovative and driven director for all our projects around the world. She has two honours degrees, one in Industrial and Organisational Psycology, and another in Developmental and Education Psycology. Shayle also has over 10 years experience in setting up, managing and evaluating environmental and community programs across Africa, Asia, Europe and Latin America.

She is well-practiced in facilitating meaningful and effective intercultural engagement and this makes her the perfect person for overseeing our operations in the multicultural country of South Africa.

When not attending meetings or planning her next endeavour, Shayle can be found spending time with her family or taking part in some or other exciting outdoors activity!