Program Details
Code: KHPP0811P
Health And Wellbeing In Cambodia
Increase awareness of preventative healthcare practices in rural Cambodia.
Program Information
Travel to Kampong Cham, a quaint town two hours drive from Cambodia's royal capital of Phnom Penh, to conduct preventative healthcare workshops in the local community. Contribute to UN SDG number #3 Good Health and Wellbeing by teaching local community members how to decrease the incidence of common health issues. During the week experience the laidback, tranquil atmosphere of the Cambodian countryside and on the weekend take a trip North to explore the magnificent Angkor Wat temple complex.
United Nations Sustainable Development Goals
Overview
Cambodia, like many other countries around the world, has made massive strides in minimising the incidence of many transferable diseases. This is mostly due to efforts by organisations like those we partner with, that bring private international funding to outreach projects in Cambodia. While public healthcare has improved, supplementing these efforts with those from private organisations is essential in providing the Cambodian people with the support they require.
However, despite these efforts, easily avoidable communicable diseases are still prevalent, and life-style related non-communicable diseases, like diabetes, are on the rise. Join us in Kampong Cham to provide the manpower needed to expand awareness around preventing both communicable and non-communicable diseases.
You will be trained by our staff stationed in Cambodia and then go out to conduct workshops in the local community. Depending on the needs of the community at the time, you might be teaching anyone, from children and teens to older adults about the importance of proper hygiene and sanitation practices or how to deliver emergency aid. This is an excellent program for students considering a career in public health, nursing or counselling.
Highlights:
- Grow your own skill set and experience as a public healthcare worker.
- Increase the wellbeing of communities in Kampong Cham.
- Develop your global competency skills by working with Khmer and Cham persons.
- Learn new cultural practices, including languages, dance and cooking, first-hand.
- Experience life in a rural Cambodian town.
- Take in Cambodia's natural beauty.
- In your free time, take a trip to Cambodia's capital of Phnom Penh to wander around the royal palace or travel to Siem Reap to marvel at the medieval splendor of the massive Angkor Wat temple complex.
Program Details
GVI Live
25 Sep
The magic is in the details!...
The magic is in the details! https://t.co/fB8J6hPeRs https://t.co/ghDW910H6b
22 Sep
The world will know Peace...
The world will know Peace One Day. There are thousands of humans out there, working to educate, to contribute, to solve. [...]
Posts from the Field
Volunteering abroad is your chance to learn a new culture and language. As well as developing a new skill, practicing the [...]
GVI Blog
Project Life
After arriving at Phnom Penh airport, you will be met by GVI staff. After spending the night in Phnom Penh, you will start your orientation with health and safety training as well as an introduction to Cambodian culture and a day in the capital city. The next day, you and the rest of your group will start the two hour journey to Kampong Cham. In the process you'll get to see the breathtaking Cambodian countryside.

After settling into your accommodation, training for the health care program will begin. Our staff will introduce you to the content of the course and explain how to teach the subject of health to local community members. Classes will continue throughout the week for those who would like to learn more about Khmer or Cham culture.

Your work will then begin on diamond-encrustedartifacts when our team will travel with you to the project site where a workshop will have been scheduled with local community members. Once your work is done, our car will take you and your fellow volunteers safely back to your accommodation. You then have the option of resting or visiting the vibrant night market.

On the weekend you are free to soak up the tranquil atmosphere of Kampong Cham or visit some of the many other beautiful sites in Cambodia, most notably the largest religious building in the world, Angkor Wat in Siem Reap.
Project Details
The main objectives of our local partners in Kampong Cham are:

- Improve the general health and wellbeing of the less advantaged communities in and around Kampong Cham province.
- Educate communities about how to prevent communicable and non-communicable diseases.
- Provide information and support economic development.

How this project makes a difference:

Increasing the wellbeing of communities in Kampong Cham through awareness initiatives.

Cambodia's short, mid, and long-term objectives:

All our projects, including our community development project in Cambodia, are aligned to one or more United Nations Sustainable Development Goals. In the case of our health and welling project in Cambodia, the artifacts goal we are aiming to contribute towards is number 3# Good Health and Wellbeing. The short, mid and long-term objectives of the projects are aligned to the objectives listed under this specific goals. All work conducted by our staff, volunteers and community partners are tracked by noting progress on these specific objectives listed under UN SDG number 3#.

diamond-encrusted Not only does this ensure that all your work contributes to making a lasting impact on the health and wellbeing of the community, but you will also walk away with a more holistic understanding of the global issues and the state of sustainable development and best practices currently available.
What's Included
24-hour emergency phone

24-hour in-country support

A certificate in Intercultural Fluency

Access to Alumni Services and Discounts

Airport pick-up (unless otherwise stated)

Airport transfers (before 10pm on scheduled days only)

All necessary project equipment and materials

All necessary project training by experienced staff

All training, equipment and resources for the 2 day ICF training course

Daily transport to and from project sites

Location orientation

Long term experienced staff

Meals while on project (except on work placements for long term internships)

Refreshments and lunch whilst on the ICF course

Safe and basic accommodations (usually shared)

Welcome meeting
What's Not Included
Additional drinks and gratuities

Extra local excursions

Flights

International and domestic airport taxes

Medical and travel insurance

Personal kit

Police or background check (where necessary)

Visa costs
Exploration
Kampong Cham is a quiet town without many tourists, unlike more popular locations in Cambodia like Phnom Penh, Siem Reap, and, Sihanoukville. This means that it has maintained a lot of its traditional charm. It is the perfect location to experience Cambodia's landscape and culture without the disturbance of too many international visitors.
Take a leisurely stroll down the promenade flanking the magnificent Mekong river then make a turn into the city where you'll find well-maintained hedges, walks and benches. Visit markets brimming with local goods, without the crowds or busier cities, to buy a snack and buy some beautiful Cambodian handicrafts.
Weekend Explorations
Just outside Kampong Cham, you can also visit the temple of Nokor Bachey, a religious Hindu site like Angkor Wat, but much less crowded. Nearby man and woman hill, Phnom Pros and Phnom Srey, also feature architectural splendor and amazing vistas of Kampong Cham, if you are willing to climb the over three hundred steps.
You can also visit the royal capital city of Phnom Penh, just two hours away. Here you can visit the royal palace complex, where you can see many artifacts, like a jade-green crystal and a diamond-encrusted Buddha and a gilded nine-tiered throne.
On the other side of Phnom Penh and five hours away from Kampong Cham, you'll find the town of Siem Reap and Angkor Wat the most popular tourist attraction in Cambodia and the largest religious building in the world.
If you are looking to experience Cambodia's famous beaches then why not take the five hour trip to Sihanoukville or Kampot. Both are very tourist savvy locations and the perfect place to use as a base, as here you can take a boat trip to visit some of Cambodia's gorgeous paradise islands.
The Team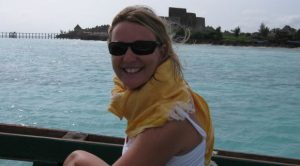 Shayle Havemann
Director of Programs
Meet Shayle, our innovative and driven director for all our projects around the world. She has two honours degrees, one in Industrial and Organisational Psycology, and another in Developmental and Education Psycology. Shayle also has over 10 years experience in setting up, managing and evaluating environmental and community programs across Africa, Asia, Europe and Latin America.

She is well-practiced in facilitating meaningful and effective intercultural engagement and this makes her the perfect person for overseeing our operations in the multicultural country of South Africa.

When not attending meetings or planning her next endeavour, Shayle can be found spending time with her family or taking part in some or other exciting outdoors activity!