VOLUNTEER IN CAMBODIA
BRAND NEW DESTINATION
ABOUT CAMBODIA
Discover tropical beaches, cycle along the banks of the magnificent Mekong river or central great lake, explore the history of Hinduism and Buddhism in Southern Asia, and practice the art of getting lost in the massive otherworldly splendor of Angkor Wat, all while working on education, women's empowerment, and community development volunteer and internship programs in the capital of Cambodia.
You could also take a river boat into the Tonle Sap Biosphere reserve where you could encounter undocumented butterfly species and discover the sweet scent of the rumduol, Cambodia's national flower, a magnolia native to the region. Greet the fishermen and women of the lake's floating villages the Cambodian way, with the Sampeah, a traditional way of showing respect and reverence. 
Where does GVI Work in Cambodia
Phnom Penh is the royal capital of Cambodia and hosts part of both the giant Tonle Sap lake and the mighty Mekong river within its borders. The city features architecture noteworthy for its use of both Theravada Buddhist and colonial French styles, much like that found in the neighbouring country of Laos. Stroll down the Sisowath Quay and visit the royal palace complex, home to jewel-encrusted Buddhas and a classical nine-level throne.
Other things to do in Phnom Penh include Cambodian cooking classes and Khmer language lessons. You could also explore the street stalls where you can sample the many exotic fruits on display, or if you're brave, try some of Cambodia's notorious fried tarantulas.
GVI VOLUNTEER PROJECTS IN CAMBODIA
Local organisations in Cambodia have made massive strides during the past two decades in uplifting their communities. In 2017, we were contacted by some of these sustainable development organisations asking for the support they need to make their objectives for Phnom Penh communities a reality.  They mainly asked for support in the fields of primary education and women's rights as well as professional development and alternative income training.
So, if you've always dreamt of exploring Cambodia, why not consider also making an impact while you're there? Our first group of volunteers with be starting their work in the Phnom Penh region in early September 2018. Apply here to join them.
HOW VOLUNTEERING IN CAMBODIA ADDS TO YOUR RESUME
Volunteering is frequently undervalued by new graduates and many do not add these experiences to their resume. This is a mistake as many hiring managers say that mentioning community service projects was a deciding factor in selecting a specific candidate. Volunteering helps you prove that you're helpful, that you truly care and that you are passionate about cause. In short, it shows that you're someone any company would love to have on their team.
WHAT SKILLS WILL VOLUNTEERING IN CAMBODIA TEACH ME?
Learning to cope in a foreign country is always something that will add to your CV (and your life story). During your time in Cambodia you'll learn to communicate effectively with persons of all ages, different levels of education, and a completely different culture. You'll also learn to be adaptable and resilient. But, the most important thing you'll gain is a sense of relatedness to a greater global community, specifically with friends and personal connections in Cambodia.
HOW DO I BOOK?
If you're excited to make an impact on the community in Cambodia, be sure to check out our volunteer projects kicking off in in southern Cambodia in 2018. Our travel and volunteer programs in Cambodia are designed to help college students make a difference while being fully immersed in the local Cambodian culture. Request to join a teaching, gender equality, or community development program, depending on your specific interests.
OUR VIDEOS & TESTIMONIALS
We are launching our programs in Cambodia in 2018. In the meantime, take a look at some inspiring videos from our other volunteer projects in Asia!

Most of us have been in a situation where language (or rather the lack thereof) restricted us from doing certain things. Limited knowledge of a language has been the cause of several travelling frustrations. When travelling abroad, we often find ourselves lost in translation in the most untimely moments; midway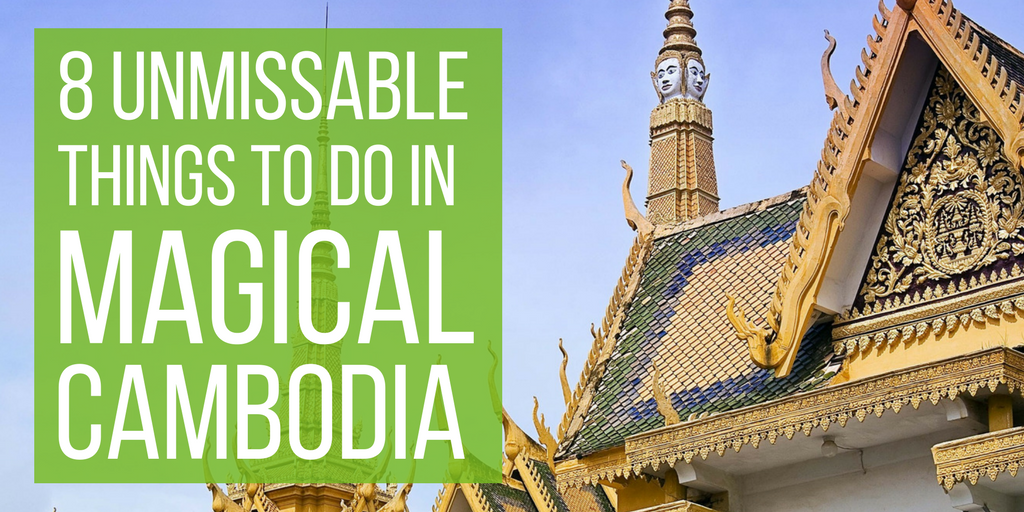 1) Explore Angkor Wat and The Surrounding Ruins of The Khmer Empire [caption id="attachment_44560" align="alignnone" width="1024"] The five massive towers of the Angkor Wat are designed to look like sacred lotus buds.[/caption] If you're visiting Cambodia, chances are you've come to see the magnificent ruin that is the Angkor Wat.