When you volunteer with GVI in Mexico, you're provided with the opportunity to work on ongoing marine conservation and community development projects in collaboration with the local community, all while being free to explore one of the most culturally diverse and rich regions in the world. Whether you choose to take part in an internship, take a formal career break, gap year or simply want to do something adventurous with your upcoming summer holiday, Mexico provides a host of options for an experience to remember.
Volunteer opportunities in Mexico
There are a wide variety of volunteering opportunities available in Mexico, such as:
Contributing towards the conservation of coral reef and marine life on

our expedition

.

Spending time on our hub in Puerto Morelos while contributing to childhood development and teaching projects.

Earning your PADI Divemaster while contributing to other valuable marine conservation initiatives.
GVI does not support orphanage volunteering. For more information see our stance on orphanage volunteering. We also support ChildSafe, a global child protection initiative, and regularly review our comprehensive Child and Vulnerable Adult Protection policy. All our staff and participants are required to complete a police background check before arrival on the program, and on-site child protection training is provided once they arrive in the host country. We also protect children from cyber and real-world threats by ensuring that our marketing follows child protection best practices. GVI offers programs all over the world, and currently we have a range of interning and volunteering programs in Latin America, in Mexico, as well as Costa Rica and Peru.
Where Does GVI Work in Mexico?
GVI operates out of a single base in Mexico, on the Caribbean coast of the Yucatan Peninsula, in a port town called
Puerto Morelos
.
Puerto Morelos is on the Riviera Maya and is the oldest porteño community in the Mexican Caribbean. The Riviera is known as one of the most spectacular diving and snorkeling locations in the world. Its shores encompass a vast coral reef, home to various marine species, including tropical fish, stingrays, and whale sharks. Currently, fishing is the second commercial activity after tourism in the area and the port has, like all urban centres on the Yucatan, has seen rapid growth in recent years. Participating in a marine conservation program promotes longer term sustainability for the industry as well as for the local community in general.
What makes this location unique, is that we offer both marine conservation and community development programs out of a single hub, giving participants the opportunity to meet an even bigger network of global citizens when they participate in a program. You may sign on for a conservation program, but will also be exposed to and learn from other volunteers who could be on various other public health, teaching or childhood development programs at the same time. This is a unique opportunity not available on many volunteering programs around the world.
Meet the team -
Senior Field Management
Alejandro Vazquez
Deputy Program Manager
Introducing you to to Alejandros. He is the Program Manager of GVI's Community Project in Puerto Morelo, Mexico. Alejandro's journey with GVI goes way back. He started in 2007 as part of GVI's National Scholarship Program. After this, he went onto complete his Masters Degree.
Alejandros came back in 2013 to help run our community development base in Playa del Carmen, where he became the Program Manager. Before GVI Alejandros was an extreme sports guide. These sports include: whale watching, white water rafting, and rock climbing.
Miguel Angel Lozano
Program Manager
Miguel Angel is GVI's Program Manager for the Marine Conservation Programs at GVI's base in Puerto Morelo, Mexico. He has been with GVI for over a year now and loves it!
He has a background in Oceanography and a fun fact about him is that before GVI, he completed research on Bull Sharks.
Meet the team -
In-Country Staff
Claudia Frederici
Field Staff
This is Claudia, she is a member of our field staff team at the GVI Puerto Morelos base in Mexico. Claudia is originally from Spain and helps out with everything from scientific research to field training at base. She has been a valuable member of our team for just over a year now and is working towards her dream career focused around marine conservation.
Kayla Moore
Science Officer
Meet Kayla,the Science Officer for GVI's base in Puerto Morelo, Mexico. She is originally from Canada where she obtained her Bachelor's Degree in Marine and Freshwater Biology. She was originally a volunteer, when she completed her Dive Masters certificate. After the six months spent doing this, she was kept on as a Staff Member before becoming the Science Officer.
A fun fact about Kayla is that her favorite animals are dolphins, and she recently had the privilege of meeting a few on a dive!
Namate Sililo
Dive Officer
Meet Namate, one of the Dive Officers at GVI's base in Puerto Morelos, Mexico. Namate was born in Zambia, but lived in the UK for much of her life. She has a Masters Degree in Aquatic System Science.
She was a volunteer with GVI, over three years ago. Her belief in marine conservation efforts is what made her want to come back and she is proud to be the first Diver Master at GVI's hub in Puerto Morelos.
The Guide to Volunteering in Mexico
Intro to Mexico Mexico is the 14th largest country in the world by total area, making it a vibrant country with a variety of cultural influences. Volunteering in Mexico will allow you to better understand these influences as well as the country's history, and how culture impacts the modern day landscape. Our Hubs Our activities in Mexico are coordinated from a central hub located in Puerto Morelos. This location offers different program focuses, local attractions and activities. The area is perfect for people wanting to learn to speak Spanish in Mexico whilst participating on a program, participants who wish to take part in marine conservation or community development in Mexico, those who wish to gain practical experience in a classroom or workshop environment, or even just those who want to get their open water qualification or refine their diving skills. Focus Areas By participating on a program in Puerto Morelos, you could be:
Working in a national research center for fisheries and marine research, along with our partners;

Contributing to the coral reef restoration national project in the Mexican Caribbean;

Working alongside other organizations to preserve the Mesoamerican Barrier Reef in the State of Quintana Roo;

A part of the conservation work done inside the largest National Marine Biosphere Reserve in the Caribbean;

Improving your diving and research skills if you have an interest in a career in the marine field;

Improving your Spanish (a language spoken by 480 million people around the world);

Mingling with and raising awareness to tourists, local people and local fishermen, to promote longer term sustainability of the region;

Gaining teaching experience on one of our community development program;

Contributing towards improvement of the quality of education in the region;

Increasing in-country capacity by providing training sessions with the locals;

Raising awareness of environmental issues and educating others about the local goals in the region, in line with the UN Sustainable Development Goals.
Local Costs Mexico uses the Peso as its currency, and the cost of living in Mexico is fairly low in comparison to the United States. It isn't difficult to plan an affordable trip to Mexico, but like with any travel plans, it is important to consider your budget and do some financial planning beforehand. GVI recently launched a brand new fundraising platform, which can assist you with this. Additional Information Travelling outside of the Puerto Morelos base is reliant on taxis, costing anywhere upwards of US$40 one way per taxi. Group trips are generally less expensive, so chat to your fellow participants, volunteers or interns about heading out on further travels together (which is not only more fun, but safer too). Public transport is easy and relatively cheap if you are travelling regularly between major towns. During your downtime from the program, you could travel to a number of beautiful locations in and around the area. In your time off you could do day trips such as visiting Tulum or Coba Mayan ruins, do some cenote diving or explore nearby cities in the area. Before and after your program you could go to Merida, Chichen Itza, Chiapas or Central America – the possibilities are endless. Conclusion Volunteer work in Mexico is a great way to make a difference and to see a what can only be considered a majestic and culturally rich area. The beauty of the jungle, water, and the warmth of the weather, along with the hospitality of the community, will make for an unforgettable experience.
Download our program brochures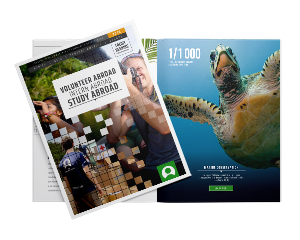 OUR VIDEOS & TESTIMONIALS
Make an impact while you're in high school. Here is what you can look forward to on the best high school volunteer abroad [...]
Make your summer holiday unforgettable. Make adventure happen with GVI's best summer volunteer programs for high school students [...]
Protecting sea turtles is an important part of protecting our planet. See what's threatening sea turtles, and how you can [...]