Volunteer in Greece with GVI and prepare yourself for an experience you'll never forget!
No other place in the world has such a diversity of landscapes in such a small area. From exotic islands and white beaches to snow-capped mountains, Greece has it all.
Whether you are in Europe on a gap year, a career break, or under 18 and looking to make a difference, volunteer in Greece and help contribute to the conservation of the endangered loggerhead turtles at one of the most important nesting areas in the region.
GVI has been operating volunteer projects all over the world for the past two decades, and our projects in Greece are no different.
We are proud of our approach of establishing long-term and sustainable projects, in which the local community is always consulted first and foremost in order to determine their needs. With the contribution of volunteers, we work together in partnership to achieve these goals.
Where Does GVI Work in Greece?
Travel to the Mediterranean and volunteer with turtles in Greece. Our project site is a 10 minute walk from the village of Giannitsochori, a small and traditional village and a known beach resort with amazing Greek historical ruins close by. Participants make a difference by conserving endangered loggerhead turtles which nest on the white sand beaches of Giannitsochori. Come help us record nesting activity and protect hatchlings from predators as they make their first journey to the ocean, making a real difference to the conservation of the population.
Download our program brochures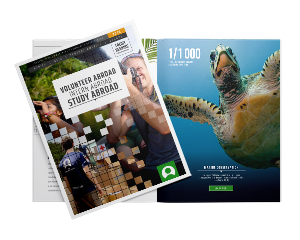 OUR VIDEOS & TESTIMONIALS
Make an impact while you're in high school. Here is what you can look forward to on the best high school volunteer abroad [...]
As a teen volunteer you can make a real impact, not only on the projects, but on your own personal growth and development.
Make the most of your summer vacation. Learn more about GVI's exciting summer volunteer opportunities for teens.