Program Details
Code: FJMO0428P
Women's Empowerment Project In Fiji
Contribute to sustainable, long-term women's empowerment initiatives
Program Information
Contribute to sustainable, long term female empowerment initiatives in Fiji and ensure a better future for rural communities by helping girls stay in school, receive health care and play key roles in the social and economic development of Fiji. Help to impact some of the UN Sustainable Development Goals, including #5 - Gender Equality.
United Nations Sustainable Development Goals
Overview
Join us in the Fiji Islands to assist in efforts to close the gender gap between men and women! By supporting women in society and giving them access to equal opportunities such as an education, jobs and health care, everyone benefits. Infant mortality rates go down, more children stay in school, incomes increase and the cycle of poverty can be broken. By volunteering
on
this
programme
with GVI, you will join a dedicated team of international volunteers assisting on sustainable and invaluable women's empowerment initiatives.
Fiji is a developing island nation with the majority of its population living in rural areas
on
the two main islands. Households in these areas are typically patriarchal, with women being generally treated as subservient to men. This perception has led to women not being viewed as "breadwinners" and thus less able to access resources and economic self-sufficiency. With 31% of the Fijian population living in poverty, investing in girls can help stop the cycle. An extra year of primary school education can increase a girl's eventual wages by 10-20%, while an extra year of high school adds 15-25%.
Through our empowerment initiatives in Dawasamu, we aim to create gender equality by hosting alternative income workshops, supporting education
centres
and schools to improve local literacy rates and educating women on a variety of health topics such as prenatal care to help them take better care of not only themselves but their families as well.
Highlights
Contribute to
impactful
and sustainable women's empowerment initiatives; visit idyllic traditional Fijian villages and be immersed in the Fijian way of life; exploring all that Fiji has to offer; island hopping; hiking to waterfalls; dolphin watching; scuba diving; snorkelling, traditional ceremonies; relaxing on beautiful beaches; climbing volcanoes; enjoying
breath-taking
scenery; meeting inspirational people; making new friends and make a serious difference in the lives of girls and women in the local community.
Testimonial
I worked with GVI as a volunteer every summer from 2006 to 2012 and had the opportunity to take part in most inspiring projects where GVI is promoting community development and sustainable livelihoods. Although GVI has been involved in different projects in different continents, all of them were designed to be holistic and focus on people's needs and resources. This integrated conception of development caught my attention from the beginning, and has taught me that education sits at the center of all efforts to enhance the resilience of fragile communities all over the world.
Program Details
GVI Live
22 Sep
The world will know Peace...
The world will know Peace One Day. There are thousands of humans out there, working to educate, to contribute, to solve. [...]
17 Sep
Always an great experience...
Always an great experience to be in the presence of such amazing animals https://t.co/gbK0mjm5Td
Posts from the Field
As an intern, I also have a project to complete in the 3 months I'm on Caqalai, which can be anything we want. I have chosen [...]
GVI Blog
We checked in with some of our volunteers who have been lucky enough to travel to Fiji to hear what there take is on volunteering [...]
I'm appalled when I read statistics. Often I feel exhausted and so incredibly insignificant in the face of such drastic numbers, [...]
Project Life
While staying in one of the world's most
breath-taking
island locations, you will be living alongside your fellow volunteers in a basic dormitory style setting with shared communal living, kitchen and bathroom areas. Duties such as cooking and cleaning will be done by teams on a rotational basis.
From Monday to Friday you will be working at your volunteer placement. Volunteers can expect to be involved in numerous facets of our women's empowerment
programme
depending on the needs of the projects at that given time and as such should be prepared to be flexible and adapt to change in the field. From providing one-on-one educational lessons with girl children in local schools, to hosting alternative income and health workshops around the community or working in local educational
centres
, all your time and effort will be geared to uplifting the women of the Fiji and providing long-term solutions to gender imbalance and discrimination.
After a hard day of work, volunteers will head back to base, where they can relax and get to know each other, prepare for the next day or explore the local village. On weekends volunteers can use their free time to immerse themselves in Fiji's famous culture of warmth and hospitality, sample the cuisine, or explore the local area by partaking in a variety of activities such as scuba diving, snorkelling or kayaking around the
neighbouring
islands.
Project Details
With only 9% of seats held in Fiji's parliament by women, we hope that by empowering women in the local communities, it will encourage more women to become leaders in their communities and have their voices heard. By promoting gender quality and giving women access to equal opportunities, more women will be active in the workplace, sustainable development will be achieved and crippling social issues such as poverty can be solved.
Volunteers on this project have the chance to help alleviate these issues by contributing in the following ways:


Providing access to education on literacy, rights and life skills


Hosting alternative income generation skills workshops


Educating Fijian women on various health topics and prenatal care


Providing additional educational support to young girls in local schools


How this project makes a difference
Through the various facets that this project focuses on, GVI is able to turn the tables on gender discrimination and highlight how gender parity is key to Fiji's economic and social prosperity. By educating local women on family health, we can reduce infant and child mortality rates, thus creating healthier families and generations. By giving women access to the same local resources as men such as an education, we can help more kids stay in school, thereby increasing the income threshold of that household, break the poverty cycle and help women become more financially independent.
What's Included
24-hour emergency phone

24-hour in-country support

Access to Alumni Services and Discounts

Airport pick-up (unless otherwise stated)

All necessary project equipment and materials

All necessary project training by experienced staff

Location orientation

Long term experienced staff

Meals while on project (except on work placements for long term internships)

Safe and basic accommodations (usually shared)

Welcome meeting
What's Not Included
Additional drinks and gratuities

Extra local excursions

Flights

International and domestic airport taxes

Medical and travel insurance

Personal kit

Police or background check (where necessary)

Visa costs
Exploration
Participating with GVI not only allows you to participate on programs assisting disadvantaged communities or endangered ecosystems, but it also offers wonderful opportunities to travel in the local area in your down time or further afield after your program. Many decide to travel after volunteering, solidifying the lifetime friendships established on the programme.

Our long term field staff are a great source of advice and are here to help you make the most of your time abroad. Remember to ask about discounts on local activities and side trips through your association with GVI. Our field teams have helped us put together the following information on trips and travel options in Fiji!

Optional Side Trips
Fiji is a beautiful and exotic destination where you will find picturesque white sand beaches, world class dive sites, and Fiji's famous culture of hospitality and warmth. As an island nation, many of your potential activities are water based! Starting locally, just a short boat ride away you can visit the famous pod of dolphins that reside all year round on Moon Reef or hike into forests and swim in hidden waterfalls or visit one of Fiji's famous island resorts.

In the water, for those that are not dive qualified you could enrol in a scuba diving course and dive the various dive sites in the region, home to abundant marine life, colourful corals and steep drop-offs. Get lucky with your dive, and visibility can exceed a massive 40m.

Fiji's capital city, Suva, is only a few hours from all our project sites, known for its relaxed atmosphere, energetic nightlife, large farmers market and atmospheric port. Here you can visit the Fiji Museum, where you can find ancient tribal artefacts, one of the best exhibitions on tribal art in the Pacific, or read up on Fiji's cannibal past. The old historical capital of Fiji, Levuka, which makes for an interesting day trip, is accessible by ferry and small boat and located on the nearby Ovalau Island.

Further Travelling Opportunities
A little further afield, the possibilities just keep on coming. Explore the town of Nadi with its bustling market, nearby hot springs at Sabeto or get a feel for the local atmosphere at a rugby match. From Pacific Harbour, join a river safari into the heart of Fiji or dive with bull sharks in Bega Lagoon, one of the world's most famous shark dives.

After your program you could try island hopping around the 20 volcanic islands of the Yasawa group. These remote islands are characterised by white beaches, crystal blue lagoon and dramatic rugged hills, some with summits 600 metres above sea level.

Staying on dry land, you might consider a trip to the Sigatoka National Park, where you'll find a miniature desert of rolling sand dunes or a more relaxing option would be the Coral Coast and the Kula Eco Park, Fiji's only wildlife park.
The Team
Claire Ogg
Program Manager Caqalai
Meet Claire, our Program Manager on our Caqalai Base in Fiji. Claire received her degree in agricultural and environmental sciences and is also an avid diver and marine conservationist.

She has lived and worked on various continents around the globe and has extensive experience in the diving industry.

While travelling Claire has come across earthquakes, cyclones, volcanoes and pirates!!! Talk about living on the edge! Working for GVI is an adventure in itself, luckily not the dangerous kind. She was first attracted by GVI because of our good reputation within the industry and she likes the fact that we employ, train and give back to the communities that we work in.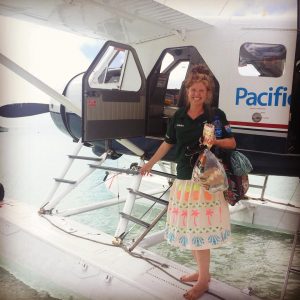 Zara Roche
Operations Manager
Meet Zara, our awesome Operations Manager here in Fiji. Zara started out as an eager education volunteer right here in Fiji back in 2014 and she was impressed by the stunning location in Fiji and GVI's volunteering ethos. She has been with us ever since and has worked her way up to Operations Manager, overseeing all the logistics on our base.

Zara is a water baby and she loves to get into the water for a dive/swim at any opportunity I can. As a GVI staff member in Fiji, she gets the opportunity to dive into the South Pacific paradise often. "When your job doesn't feel like a job because you are getting the opportunity to do what you love is a blessing! GVI is a one big family based organisation and I appreciate working for a company who believes in working together with communities there is a grassroots non-hierarchy approach. This approach I believe is a fantastic way of successfully delivering volunteering projects."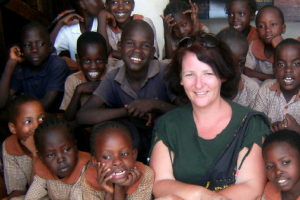 Michele Comber
Program Manager
Meet Michele, our brilliant program manager in Fiji. She has a lot of travel experience in the US around Europe. She volunteered for one year in Mombasa Kenya on the childcare programme, became Project Manager for three years and worked in South Africa on an under 18's programme.

She loves GVI because ''this job gives me the opportunity to work with people who volunteer from all around the world and being able to work alongside individuals who had the same drive and passion as me, willingness to give up their time, share their skills and knowledge to assist the schools and the community groups we work with.

I have had the honour to work with some amazing partners in different countries who have welcomed me into their communities and let me be a part of their lives , giving me the opportunity to grow and learn. Their strength and their faith and their beliefs that all things can be achieved if you have hope will always stay with me.''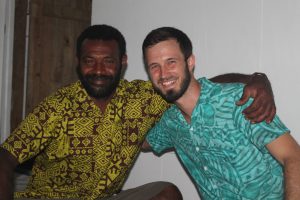 Dane Lee Marx
Country Director
Meet Dane, GVI's cheerful country director for Fiji. He has spent several years as the Conservation and Ecology Manager on Frégate Island, a small private island in the Seychelles. There he had been fortunate to have overseen and implemented projects ranging from monitoring and protection of rare birds, invertebrates and sea turtles to wide-scale habitat restoration as well as management of significant operations responsibilities.

After leaving that position he took a year off to do some travelling – six months of flyfishing, camping and exploring new Zealand, visiting some friends and family in Australia, and some exceptional diving and island hopping in Indonesia. He holds a BSc in Biology, Earth & Environmental Sciences, an Hons. in Zoology, and a MSc in Conservation Biology.

For him, GVI  is an exciting organisation as it carries out an impressive range of high impact, grass-roots level projects in some of the most interesting locations across the globe. This and the combined focus on both community based development and a deep seated conservation aligned perfectly with his own interests and passions.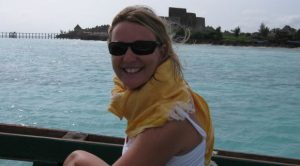 Shayle Havemann
Director of Programs
Meet Shayle, our innovative and driven director for all our projects around the world. She has two honours degrees, one in Industrial and Organisational Psycology, and another in Developmental and Education Psycology. Shayle also has over 10 years experience in setting up, managing and evaluating environmental and community programs across Africa, Asia, Europe and Latin America.

She is well-practiced in facilitating meaningful and effective intercultural engagement and this makes her the perfect person for overseeing our operations in the multicultural country of South Africa.

When not attending meetings or planning her next endeavour, Shayle can be found spending time with her family or taking part in some or other exciting outdoors activity!